What 'nooi – The Invite App' is all about..
The biggest challenge of conducting events is managing the invitees. It requires serious & meticulous planning and execution. Sometimes you'll have to call people over & over again to ensure they are attending the event.
'nooi – The Invite App' was created with an intention to simplify this process which can be otherwise very stressful. Be it a product launch, conference, exhibition, wedding, get-together, birthday party etc you know the time & money involved in planning of this.
Whatever the objective of the event is, it involves sending out invitations, tracking participations, coordinating location, sharing media files and taking feedback. Each of these should be planned and executed to perfection for an event to be successful.
We understand, that managing an event is a massive task. But with the help of 'nooi' and a plan in place, you can manage your events smoothly. Our mobile app/website is simple to use and offers a hassle-free invite solution for the organizer.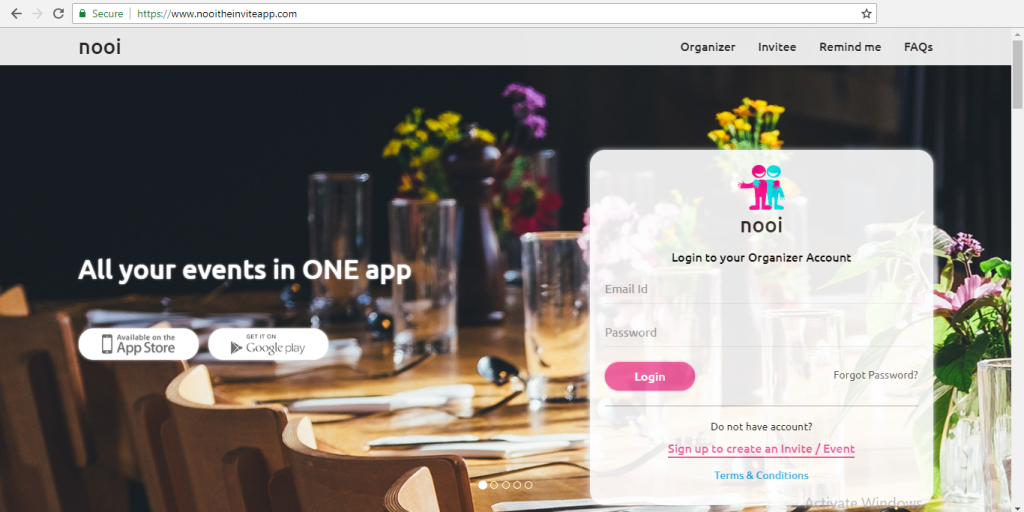 Some features created to make your job simpler:
• Invite large numbers through an excel sheet
• Send multiple invites at a go
• Track Participation
• Easy communication
– Mailbag for Broadcast to Invitees
– One on one messaging
– Group chat
• Share itinerary
• Share updates, important information about the event
• Share after event images
• Guest verification – QR code
Invitees usually have a lot of queries after receiving an invite. But with nooi, it's easier for invitees to track all the details at once:
• Get all information related to the event
• Get remainder notification for the event
• Integration with taxi services for easy transportation
So with nooi, organizing an event is no more a hassle. Login to our website to create your event and invite all your guests.