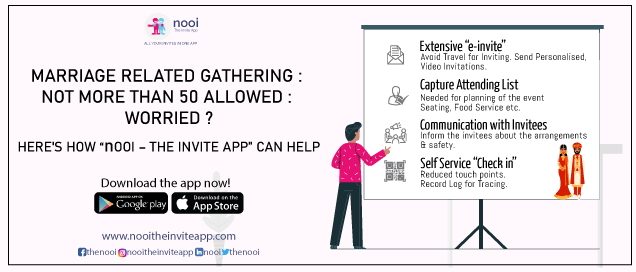 People are social creatures, forced into social distancing by the pandemic 'Covid 19' that has ravaged the world. As people start getting their lives back in order, the anxiety of social proximity will continue to linger in the mind.

At a time like this, what is the way forward? Should all social engagements be canceled? Shall we live in isolation, without the psychological benefits derived from being a member of a community? 

While large scale events such as music concerts may be pushed to a later date, personal functions such as engagements, marriages, birthdays and naming ceremonies as well as corporate events may be the need of the hour to get our social well-being and business networks back on track.

At the same time, there will continue to be what some may view as an irrational fear or perhaps a well-founded fear of travel, of meeting or passing by strangers, of mingling with a motley crowd that we do not personally know.

Is there some way by which we could minimize our exposure to infection, and still get our social contacts to come together?

Imagine being able to send personalized invites (including a video that you could record on your smartphone) to everyone. You will be able to avoid unnecessary travel, while still retaining a personal touch that will soon become the 'new normal'. Tradition will adapt to technology and keep social graces alive.

Once such social expectation is the need to keep family, friends, well-wishers 'informed' as the case may be, about an event and at the same time, the need of the hour is the ability to restrict the numbers of attendees, in order to maintain some semblance of social distancing.   

We may also see the emergence of 'repondez s'il vous plait' or RSVP as a more formal confirmation of participation. While it existed as a footnote with most invites, the implementation of the RSVP is likely to emerge as a new social norm.

Every time your invitee confirms your invite, an RSVP list could be automatically populated, and you will now have an accurate invitee list that will help you plan your event better. The placement of seating, food stalls, management of the welcome desk, or registration desk can now be properly organized keeping the best practices of social distancing in mind, while still allowing for a 'healthy' gathering of people. 
For events that have pre-scheduled time slots, such as for a recruitment drive or auditions, or special screening of movies, imagine the benefit of being able to allocate time slots to groups of individuals in advance and confirmation obtained in order to reserve seats at the venue.

Statutory government regulations could also easily be met by scanning a confirmation QR Code that uniquely identifies every participant.

The new social norm, with all its new social and statutory regulations, should not be a deterrent to get your social life back on track. At the same time, you should continue to show concern and regard for your health and for those of others.

nooi – the invite app – is one such application that can support you to organize social events, minimizing the anxiety that is inherent in the new environment.

Sridharan Narayan
Independent writer & social evangelist